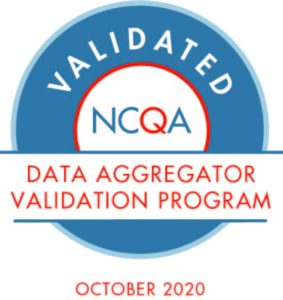 The National Committee for Quality Assurance (NCQA) recently announced the success of developing the first pilot Data Aggregator Validation (DAV) Program in the country. NCQA selected QMetrics as its lead evaluator for the DAV pilot program. QMetrics worked closely with NCQA to develop program protocols and standards, develop primary source verification (PSV), and conducted a validation audit on three health information exchange organizations (HIEs). Read the Press Release.
DAV Purpose 
The DAV program validates data aggregators that collect, aggregate, and transform electronic data from original data sources to share with vendors and healthcare organizations interested in offering a product or service using NCQA's HEDIS® measures. The DAV program ensures that NCQA's standards and protocols are met and validate the data provided from the original source accurately reflecting the data reported for use as standard supplemental data or in medical record abstraction. The benefit for a data aggregator is to increase its partnerships with Health Plans and enhance its role in quality reporting.  
DAV Program Goals: 
Ensure the integrity of data is maintained from the original source through transmission to vendors and healthcare 

organizations

 

Ensure data aggregators accurately, consistently and appropriately adhere to the NCQA Continuity of Care Document (CCD) Implementation Guide (IG) for data 

output

 

Minimize the audit burden on vendors and healthcare organizations who receive and use these data for reporting on HEDIS 

measures

 
Background 
The current process to participate in a HEDIS® audit requires Health Plans to go back to the original data source(s) to check data. This often results in a large administrative burden of time and resources, in addition to increased demand on providers. The DAV program was developed to resolve this issue by reducing cost and provider abrasion and, most importantly, allow providers more time for care delivery. QMetrics was selected by NCQA as a partner organization to develop the DAV program between September 2019 – September 2020. 
QMetrics specializes in the following: 
Data Aggregator Validation (DAV)

 

Assessments

 

Mock Audits

 
Contact QMetrics to learn more or for a free consultation at info@qmetrics.us